Breaking News & Updates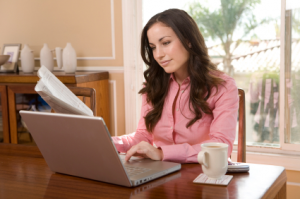 In a previous post we discussed Zoho and the range of turnkey solutions they offer small businesses. We specifically mentioned Zoho Books, which is the bookkeeping component of the Zoho Business Apps package and not that dissimilar to MYOB.
We offer training courses in MYOB, because it's the market leader in accounting software and because it's the preferred software of choice for most accountants. For start-ups or other small businesses, however, Zoho Books or Invoice might be all you need for your business, which is why we're going to provide some videos on how to use Zoho.
Just What is Zoho Invoice?
For now, though, we're going to look at the functions of Zoho Invoice. If you have recently started your own virtual assistant business or another business that really only requires you to invoice your clients, then Zoho Invoice is all you would really need.
The best thing about Zoho Invoice is that if you have 5 or fewer customers and only need access for one user, it's completely free — forever. After that, the next step up is the standard plan, which allows you to have up to 500 customers and 3 users for $USD15 a month; the professional plan costs $USD30 with unlimited customers and unlimited users.
Even if you use the free plan, you can still access all of Zoho Invoice's features, including time tracking, recurring invoices, expense, tracking, multi-currency, payment gateways and automated overdue payment reminders; you can even customise your invoices with your company logos and branding.
As your business grows, you can upgrade your plan to the standard or professional versions of Zoho Invoice, or even upgrade to Zoho Books if you're in need of a more comprehensive piece of accounting software. There's also an iPhone and Android app for Zoho Invoice, which allows you to create invoices on the go.
While Zoho is an American owned and operated company, you're still able to customize the settings for an Australian business. This means you're able to charge in Australian dollars, add GST, and you're able input information like ABNs.
The downside is that there isn't a local number for their customer service team, so you have to get in contact via email. That being said, Zoho has an online forum where you can ask and answer questions and they also provide a number of videos to help you with troubleshooting.
***
Overall, Zoho Invoice is a good piece of cloud-based invoicing software that is both inexpensive and highly functional. For a virtual assistant or a start-up that only needs to invoice customers, it sure beats the hell out of that tired, old Excel invoice! Stay tuned for more on Zoho and the Zoho Office Suite.
-- Did you like what you read? Want to receive these posts via email when they are published? Subscribe below.