Breaking News & Updates
There's always Zoho Books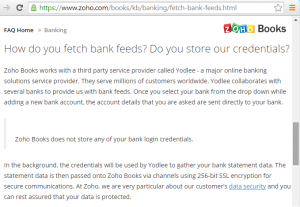 You may have a different opinion when it comes to paying your suppliers but I believe you should pay quickly. I'm talking mainly about service providers rather that product suppliers, but I think in small business it doesn't matter.
Everyone loves to be paid on time and if you can get paid earlier, even better. It once took me 16 minutes to pay a supplier – OK, I was making other payments at the time, but still, it looked impressive.
I mention it today because one of my team told me that I was categorised by their accounting software as "high risk" and I wasn't too happy.
The contractor uses Zoho Books and it's been recommended around here to team members who are just starting their own businesses as independent consultants. When I delved a little deeper I discovered that they offer automated bank feeds too.
Zoho Books + Bank Feeds = Faster Reconciliation
I've written about Zoho Books in several different blog posts about
Zoho uses a company called Yodlee to enable Zoho Books users to get their bank feeds and they boast that "Zoho Books does not store any of your bank login credentials.". This is a comforting feature in the cloud accounting wars that have erupted since MYOB started facing stiff competition online against SAASU, Xero and Quickbooks.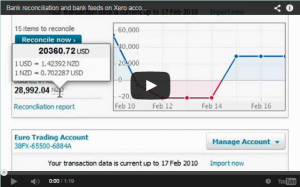 I wrote about the time saving features of bank feeds and showcased some of the training videos in our online MYOB Training Course.
If you are interested there are two free training videos to help you understand bank feeds in MYOB as an overview and how to setup bank feeds in MYOB.
I discovered a great article by "Cloud Commentator" Sholto Macpherson at his Digital First blog where he wrote about all the different perspectives of modern day bank feeds and the opinions of ICB, Accountants and the software companies themselves. If you're interested it's an interesting and objective read.
Zoho Books is in the Clouds
Either way you look at it, the new online cloud based accounting programs give you the power to work from anywhere, the tools to get paid faster and the connectivity to complete your bookkeeping in much less time.
We offer bookkeeping training in our MYOB Courses, Xero Courses and Reach Accounting so please enrol with us, take advantage of our lifetime course access feature and 30-Day money back guarantee.
-- Did you like what you read? Want to receive these posts via email when they are published? Subscribe below.