Breaking News & Updates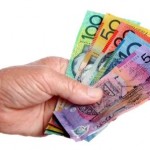 We've published numerous posts about referral marketing, which is an invaluable and cost effective way of marketing your business. In particular, we talked about LinkedIn. This is something that I, Steve Slisar, CEO of EzyLearn, am a big believer in — and so is small business marketing guru, Michael Griffiths.
You can learn more about using LinkedIn for referral marketing by attending one of Michael's Sydney workshops and here's a company willing to pay a good commission for referrals.
Peerbrief – One Grand up for Grabs
Recently I came across another great tool independent contractors can use to find work, and it's based on referral marketing. It's a new crowdsourcing recruitment and candidate referral website called Peerbrief, which was founded by Rob Fanshawe, a recruitment expert with 15 years industry experience, and who previously founded and directed 33 Talent in Sydney.
Peerbrief offers two services. The first is free for referrers – that is independent contractors, consultants, remote workers, and so on – to join and you'll receive job alerts matched to your professional experience from potential employers. If, however, you know someone who is better matched to that job, you can refer the job to them – if they're hired, the employer pays you $1,000 for your trouble.
The other service offered by Peerbrief is a subscription-based software service, which allows companies to set up closed referrals so their employees can refer candidates for jobs.
Referring the People in Your Sphere of Influence
If you've ever worked in a large company before, then you're probably aware of the incentives they give employees for referring friends or colleagues for positions going vacant. Peerbrief works off same principal, and rewards people for referring their contacts for work.
At the moment, Peerbrief is working with three industries – tech, media, and marketing and advertising – so if you have previous experience in any of these industries, I recommend you (and your colleagues) join today and get referring!
All of that being said, I would caution not to put your eggs all in one basket. As these types of services gain more popularity, the work tends to become harder to come by as employers have a greater pick of potential hires. This is why I still recommend LinkedIn and face-to-face networking events as a way to grow and develop your business.
***
As always, I think it's best if you have a number of marketing strategies on the go at once, as often, it takes a while for them to gain traction. If you have many plates spinning at once, so to speak, you're less likely to find yourself in the midst a dry spell. If you'd like to learn more about how to effectively market your business, there are two marketing modules in our Small Business Management Course. Visit our website to enrol or learn more today.
-- Did you like what you read? Want to receive these posts via email when they are published? Subscribe below.