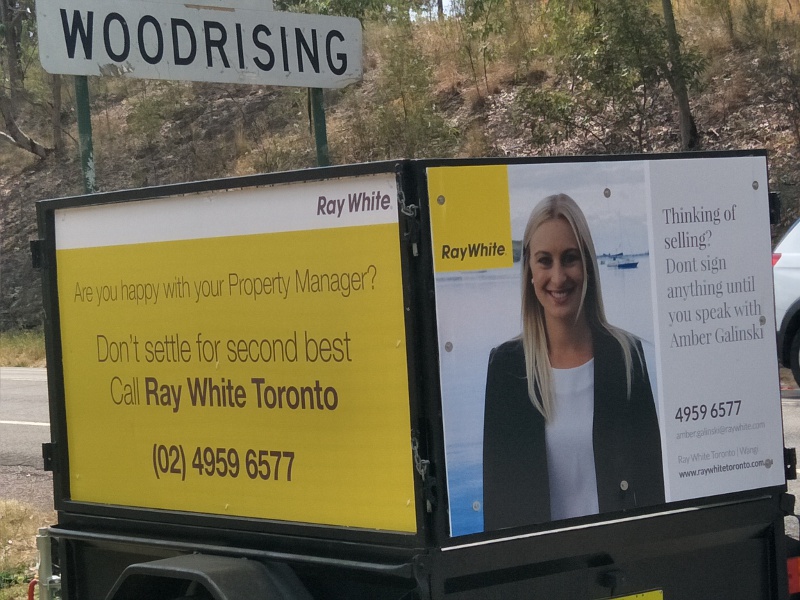 Breaking News & Updates
Real estate agents are seeing purple!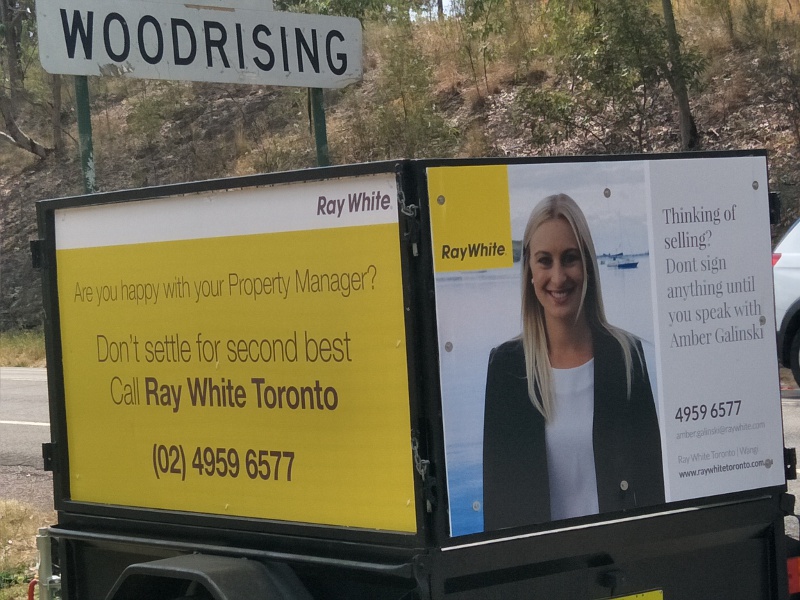 THE REAL ESTATE INDUSTRY IS undergoing substantial disruption. Only the real estate agents and agencies that decide to innovate will make it out the other side.
A big part of that means letting go of the traditional model and embracing a new, transparent real estate sales model, but many agents are still reluctant to change.
And that's a mistake.
Disruption to the real estate industry coming from many sources
Although much of the disruption is coming from technology companies, such as REA Group and Domain Group in Australia, as well as the tech giants Facebook and Google, other established players, recognising that the timing is right, are entering the fray too.
Together, these businesses are changing the way real estate in this country and across the world is bought, sold and rented. If real estate agents aren't proactive about this change, they'll end up being reactive. And they'll miss out.
One of the Case Studies in our Digital & Social Media Marketing Courses centres upon a McGrath agent based in Sydney's Cammeray. This agent, Derek, comes to realise his own personal brand is as powerful with local residents as the McGrath brand because he is a hard-working agent and his vendors love him.
Via the virion Digital Agency we were able to help Derek create a website and social media campaign to further hone and build his brand as a property expert.
Jim's to cut agents' grass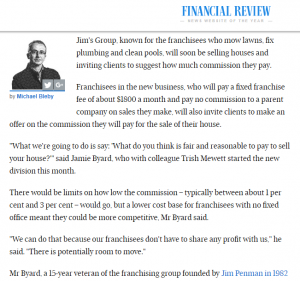 Take Jim's Group, the franchise group known for mowing lawns and fixing broken antennas. Last week, they announced their intention to enter the real estate fray with a new, low-cost service for both agents and homeowners.
The division, which is being headed up by a Jim's Group veteran and the former sales director of low-cost real estate service Hello Real Estate, will charge agents a flat $1,800 a month franchise fee.
Homeowners will also be able to suggest how much commission they'd like to pay the agent to sell their home. (It's understood there'll be a threshold for how low commissions will actually go.)
Jim's agents will work remotely from their home offices — or their cars — as most Jim's franchisees currently do, and they'll have substantially lower overheads so they can provide the same service to homeowners as a traditional real estate agent, only for less.
As an existing and trusted franchise group in Australia, they won't have to overcome the same barriers like name recognition and trust that new entrants to the market — your Purplebricks, say — did. (Of course, the Purplebricks service is also quantifiably different to the proposed Jim's service.)
Agents who don't think Jim's will make a serious dent in the industry may be right. But that misses the point; the franchise model is about giving business owners a cushion between them and flying solo. Plenty of people work in franchises — real estate is the most franchised industry in this country — but not all of them do. There's plenty of room for independent agents to take this idea and operate their own agency the same way — and keep their $1,800 franchise fee while they're at it!
Proptech sector friend or foe?
That brings us to the biggest source of disruption in the real estate industry: the proptech sector. In Australia, agents need to be cautious of
REA Group,

Domain Group,

Purplebricks,

BuyMyPlace,

Facebook and

Google.
But they also need to be wary of any new entrant that puts an "Uber" spin on the sector. (Domain recently opened up its developer APIs to encourage tech startups to use their data to create disruptive new services.)
At the moment REA Group and Domain are focussed on moving closer to the transaction, but they're also heavily investing in tech to ward off any disruption from tech titans Facebook and Google, which they consider the biggest threat to the real estate industry in this country, and the world. (eBay-owned Gumtree also shouldn't be excluded from this conversation.)
Would you advertise with a competitor?
Mortgages
Both real estate groups have acquired (or launched through partnerships) their own mortgage broking businesses — Domain's Domain Loan Finder is a JV with online broker Lendi; REA Group acquired mortgage broker Smartline, and launched its own white label service in conjunction with NAB, called realestate.com.au Home Loans.
Trades & Everything Else!
They each also own stakes in tradie sites Oneflare (Domain) and hipages (REA), connection services Compare & Connect (Domain) and Beevo (Domain), property data and mapping firm PriceFinder (Domain), real estate CRM MyDesktop (Domain) [read more about the best real estate agent CRM's], and property inspection app Homepass (Domain); Domain will also launch insurance comparison service Domain Insure and real estate agent training and education program Domain Academy.
And REA Group is busy building robots and virtual assistants, which can respond to customer enquiry — requests for Section 32 documents, schedule inspections, and so on.
Neither Domain nor REA are likely to bite the hands that feed them by introducing a real estate agency service or cutting agents out of the picture entirely — this year, REA Group posted revenue of $633.5 million from its Australian operations, of which $538.2 million was derived from agents advertising on its site.
Agents need to innovate NOW
But by owning the real estate "ecosystem", they make the role of the real estate agent much less vital — and ripe for a new service to come in (like a Jim's Real Estate) and say, "hey we can do it better." Before long, that'll become the "traditional" real estate model, just as the classified websites that usurped newspaper classifieds are now considered the "traditional" model of buying and selling stuff online.
To stay ahead of disruption, agents need to educate themselves. Continuing professional development (CPD) is a mandatory part of staying licensed in every state or territory. Provided agents undertake recognised training and keep their CPD points up, they can study anything relevant to the business of real estate.
Digital marketing is a fundamental part of real estate. Agents who understand how to market themselves online to get new business and demonstrate transparency about how the process works will stay ahead of the curve. Derek Farmer used educational videos and blog posts to explain the buying and selling process, and share market news and analysis.
This makes a sales agent an indispensable source of knowledge and a trusted advisor to buyers and sellers throughout the process, which can't be replicated by a robot, virtual assistant or app. Virion also helps agents create a digital market strategy for their business, and to fill up their website or social media pages with content that provides information to buyers and sellers they're currently getting from … Domain and realestate.com.au!
Agents should create their own property ecosystem
Domain and REA are doing their darndest to keep people on their sites for longer. They're sewing up the entire property buying and selling process with complementary services (insurances, connections, mortgages) and they're pushing more and more into content (videos, journalism, content marketing); Domain is particularly innovative in the content space, thanks to its Fairfax roots.
As a result, buyers and sellers are coming to agents forearmed, and again, the role of the agent is diminished. But agents can stay in home buyers and sellers minds by creating their own property ecosystem: start a website, fill it with good quality content, use a CRM to manage your lists of buyers, sellers, tradespeople — who have become one of the most important players in the sales process — and pump messages out your database regularly.
Finally, look at introducing a different fee or commissions structure for certain types of property or across the board. This is where the industry is heading and fighting it will only leave you in the same position the newspaper industry was in with the advent of online classifieds; cable TV providers with the rise of VOD services; music labels with streaming services, and so on.
*

*

*
Visit the EzyLearn website to learn more about our continuing professional development (CPD) training courses. To create your own property ecosystem with a digital marketing strategy and content, visit Virion's website for more information.
---
-- Did you like what you read? Want to receive these posts via email when they are published? Subscribe below.