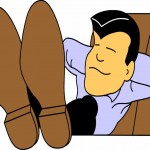 Ever since EzyLearn's early days, when we still had our training centres in Sydney, I've always gained a real buzz out of helping our students start their own businesses.
I still do, which is why I recently presented a seminar at the Reinvent Your Career Expo and why EzyLearn has partnered with the StartUp Academy.
The StartUp Academy is a start-up incubator for entrepreneurs who want to work in industries currently experiencing rapid growth — like the work health and safety industry, for example — but who also want to have balance in their home and work life; to be their own bosses. Continue reading You've Already Got a Business Coach – YOU!