Breaking News & Updates
MYOB partnered with Bunnings to give tradies Smart Receipts and now they're partnering with Telstra to give business phone customers 3 months free use of MYOB Essentials.
Telstra use the terms Essentials a LOT in their marketing for mobile phones, websites and now MYOB Essentials. Here's what their offer looks like.
ANNOUNCEMENT: MYOB Essentials Training Courses have just been updated due to recent updates made by MYOB.
I have to admit that I've done a LOT of bagging of MYOB for their botched attempts at bringing their accounting software into the cloud age. It has been easy to do because Xero has executed their strategy so successfully!
MYOB have really kept us on their toes though by updating their software regularly and adding a massive number of features to bring their MYOB Essentials software up to par with Xero.
We're sometimes alerted by students who notice something different in the software compared to our training manuals or video tutorials and we had to make a public apology last year due to a massive upgrade.
MYOB's update pages are not date stamped
Someone please tell me if I am seeing this all incorrectly. I recently visited the MYOB website page that announces updates to the software and found something fascinating. It wasn't so much about the technology that was fascinating but more that WE couldn't tell WHEN the web page updates where made.
One of the biggest themes in George Orwell's 1984 novel and film is about the Ministry of Truth and the Government worker, Winston Smith, whose job is to make sure that any "historical" news is updated to reflect the current pronouncements, or as Wikipedia state
The Ministry of Truth controls information: news, entertainment, education, and the arts. Winston Smith works in the Records Department, "rectifying" historical records to accord with Big Brother's current pronouncements so that everything the Party says appears to be true.

https://en.wikipedia.org/wiki/Nineteen_Eighty-Four#Ministry_of_Truth
What we came to discover is that the update page was being updated regularly and we were asked to "refresh" the page to get the latest information!
Telstra is NOT my go-to company for technology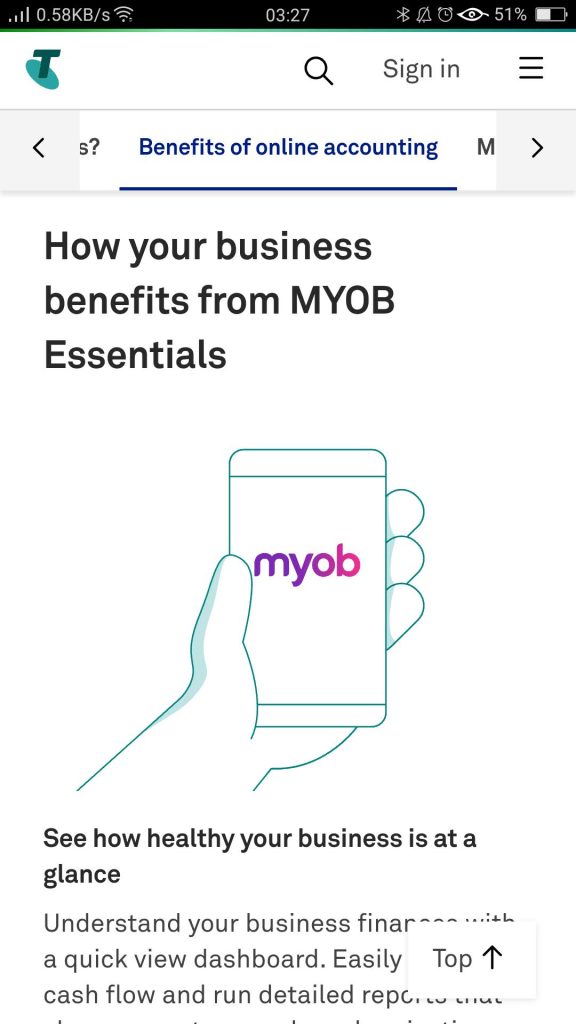 I have used Telstra in the past but when I really explore the reasons it was because I had no other choice. They either had better mobile coverage (in the early mobile days) or they were the only ISP (Internet Service Provider) when I moved up to the Lake Macquarie area in 2015.
I recently had the experience of exploring their Telstra Online Essentials website builder system and found it VERY unsatisfactory.
I recently changed from Telstra for NBN internet and was completely disgusted at my experience with their Customer Service team after I had moved to TPG Internet. You can read about my experience at the Australian Small Business Centre website blog here.
In doing some research about MYOB Essentials for this blog I also came across the Telstra marketing where they mentioned you could get 3 months free access to trial the MYOB Essentials software if you sign up to one of their phone plans – THEN I discovered that MYOB were making the same offer – with NO OBLIGATION to sign up to a new phone plan with Telstra!
Small Business Wants Transparency so they Choose Xero
Small business owners are pretty savvy and they figure out pretty quickly when an offer is not genuine. They also like the regular and positive messages that come from Xero about their pricing, features and integrations and that is why Xero are smashing it when it comes to accounting software for small business.
Xero Complete Training Course package gives you technical skills and practical exercises to understand beginners to advanced features in how to use Xero. Perfect for business owners and a great resource for job seekers to improve confidence when applying for accounting jobs at companies that use Xero.
-- Did you like what you read? Want to receive these posts via email when they are published? Subscribe below.