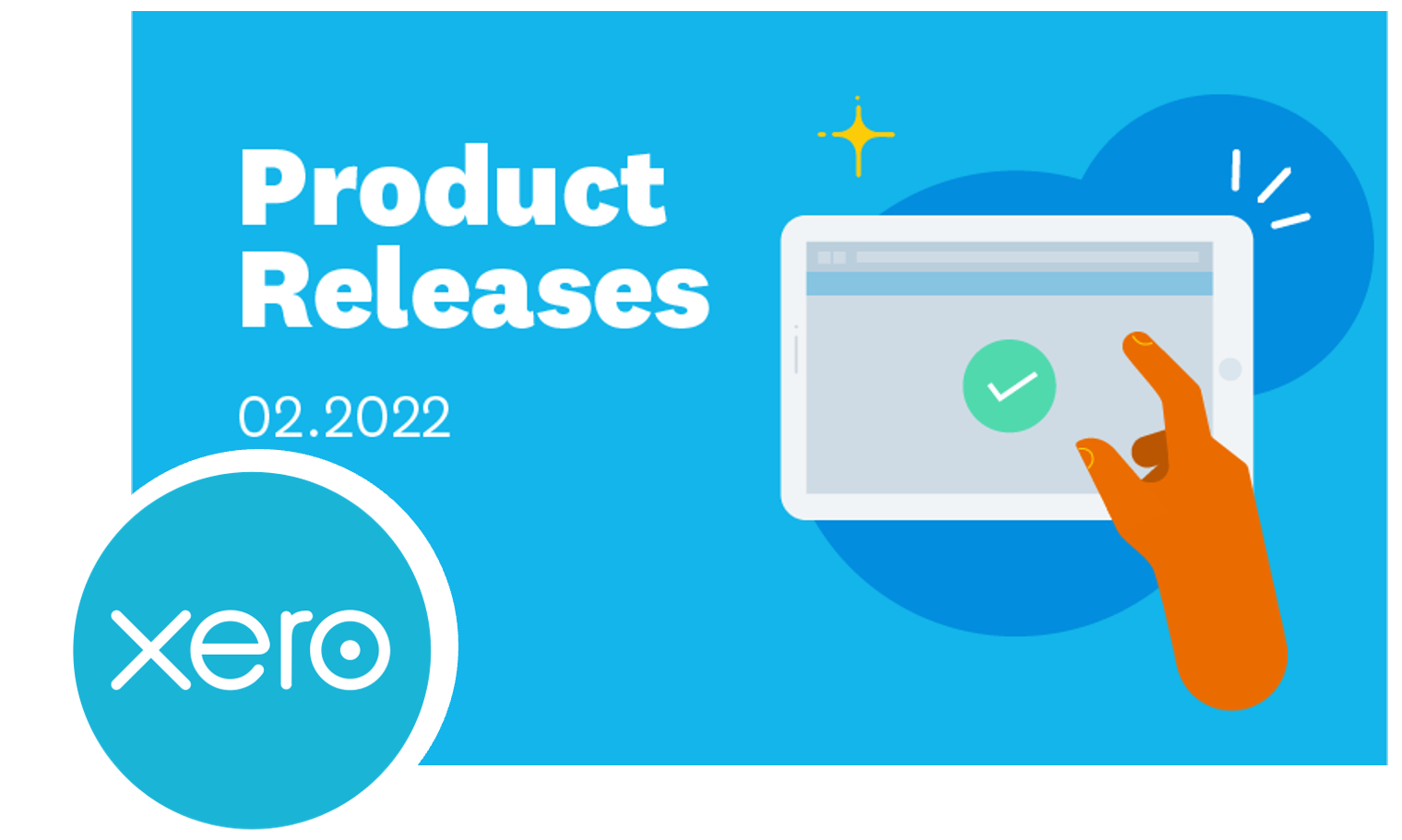 Breaking News & Updates
New year, new Xero features!
Xero has recently announced its updated product features, and they include improvements to integrations, interfaces, and information.
We updates our Xero Training Course content regularly and every student gets 12 months course access and support – this includes access to all updated and additional course content. Here's a rundown of recent changes Xero have made to their software.
Import GoCardless direct debit forms to Xero
GoCardless is a UK-based payment processing software that allows businesses to collect one-off and recurring payments directly from customer's banks accounts.
Customers set up their payment details through a secure online portal, and then payments owed are collected straight from the customer's account whenever it's due.
It's a bit similar to uCollect, and like GoCardless, both integrate with Xero and both are designed to improve your credit management and accounts receivable systems.
One of Xero's new features makes it easier to import active direct debit forms from GoCardless and match them to contacts in Xero, even if they were made elsewhere. 
When you connect your GoCardless account to Xero, you can easily import the forms, or you can select direct debit forms from the dropdown menu next to the GoCardless account to access them from the direct debit management page.
You then need to manually match the forms to specific contacts. From there, you don't need to do anything more in Xero. Payment will be collected automatically at the due dates from these matched accounts.
Better manage inventory from the list view page
Xero's inventory management has also had a bit of an upgrade. Now, when you view a product or service from the list view page, you'll see a summary of key information at the top.
The edit button is also a bit easier to find, and if you make any adjustments, you'll see what has changed and by how much, before you confirm it.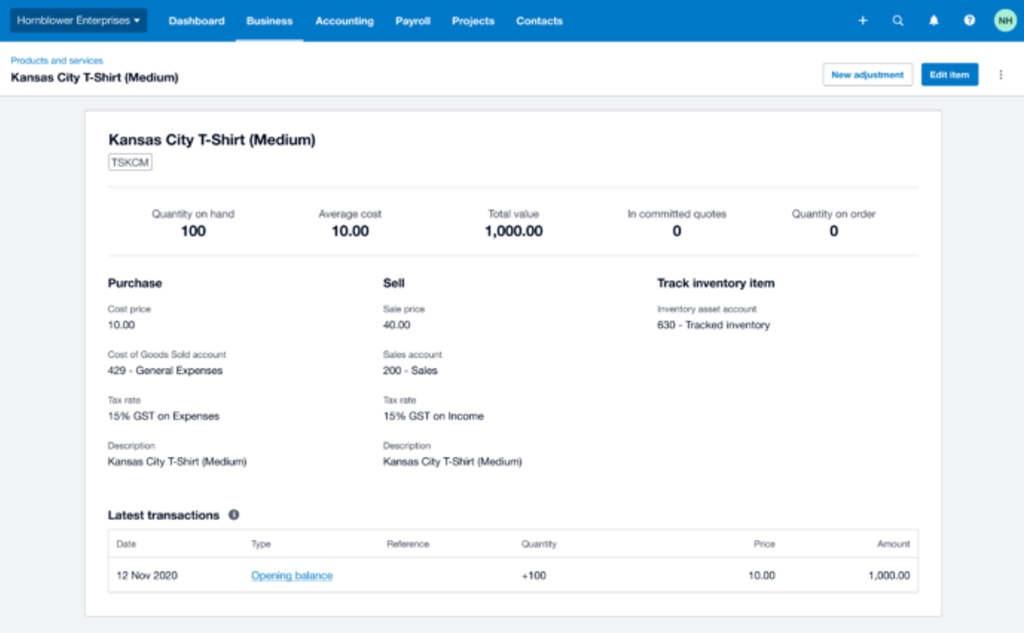 Xero posted a blog on their site four months ago pre-empting some changes to inventory management, since Xero is in the beginning stages of acquiring LOCATE, a US-based inventory management software.
Xero is in the process of upgrading their systems so they can integrate LOCATE's services into Xero's inventory solution, to enhance and improve its performance.
Save time changing staff access in Xero HQ
Xero HQ is the central place where accounting and bookkeeping practices can view and manage their client information, jobs, staff activities, and queries.
Authorised Xero HQ user roles like administrators or master administrators can, amongst other things, assign clients to staff members.
Staff can be assigned roles and viewing/editing permission for that specific client's account. If the client is connected to Xero then administrators and master administrators can provide and manage staff access to the client organisations.
Xero's new features has made this process easier with improved bulk actions. You can now edit staff access to multiple clients in one go, and the full list of role types also available.    
Xero HQ is free for accounting and bookkeeping practices who are members of the Xero partner program.
Empower employees to set up their expenses
We've mentioned Xero Expenses previously in a blog about the Xero Me app, but Xero Expenses is a suite for employers and employees to submit, approve, and edit expense claims.
Employees are invited to joint Xero Expenses, and then if they are given submitter permissions, they can download the Xero Me app and capture receipts and submit claims for work expenses form their mobile device.
Administrators and Approver permissions can download the Xero Expenses mobile app and approve, decline, edit, and/or reimburse expense claims.
Xero's new features means that employees, once invited, can set themselves up for expense management. Rather than doing it the old way of requiring the employer to enter the employee's bank details and set them up, the employee can do it themselves.
Xero says that this self-service tool will streamline the administrative process and reduce the burden for Xero admin users.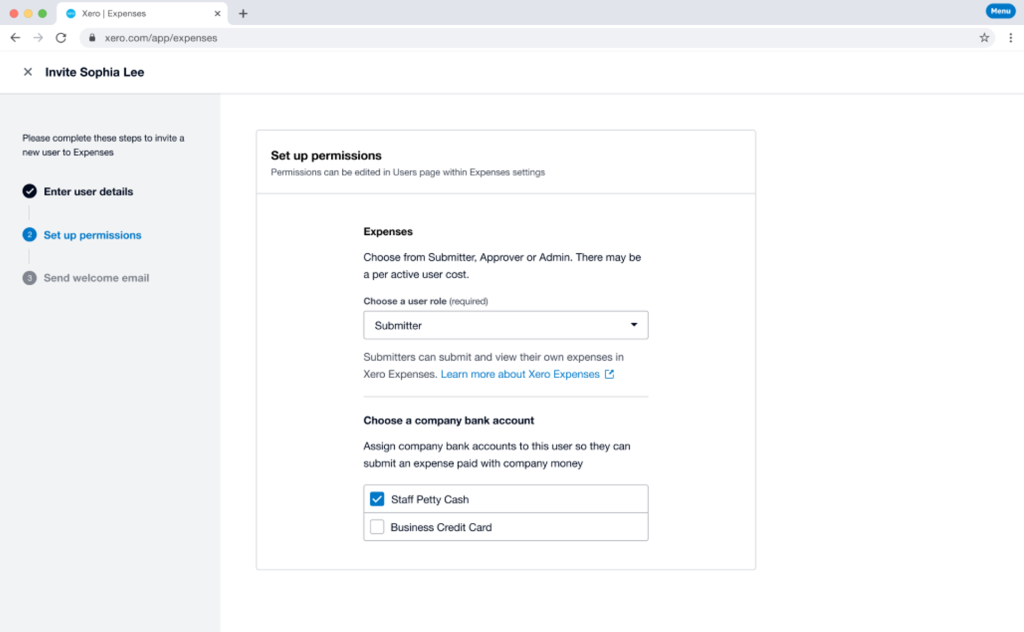 Assign different permission levels in Xero Projects
Xero Projects is a job tracking tool that allows businesses to track time and expenses against jobs, reviewing profitability and costs. You can also prepare quotes and send invoices through Xero Projects.
Xero has released a new functionality for Xero Projects which allows admin users to assign staff to different projects. Much like the role permissions in Xero HQ and Xero Expenses, Xero Projects now allows for projects to be made public or private, and admins can control staff's level of visibility.
Limited users can only view public projects by default, and can view a private project only if assigned to it.
Standard and amin users can view all projects, but only admin user roles can assign staff to projects.
You can learn about using Xero Projects in the Bookkeeping Projects and Job Tracking Training Course
Advanced Certificate in Payroll Administration Course
Easily report payroll information from STP Phase 2
This update is specific to Australia, as the ATO announced the introduction of STP Phase 2 beginning January 1 2022.
Xero has prepared for the changes by including an STP2 Information Hub. Now, the overview dashboard in Xero Payroll has a banner at the top that you can click on to find out about STP2 compliance through Xero.
The information includes the latest on new pay items, including bonuses and commissions, directors fees, and cashed-out leave. From the Hub, you can click on 'Add this payment type' to start using the new pay items.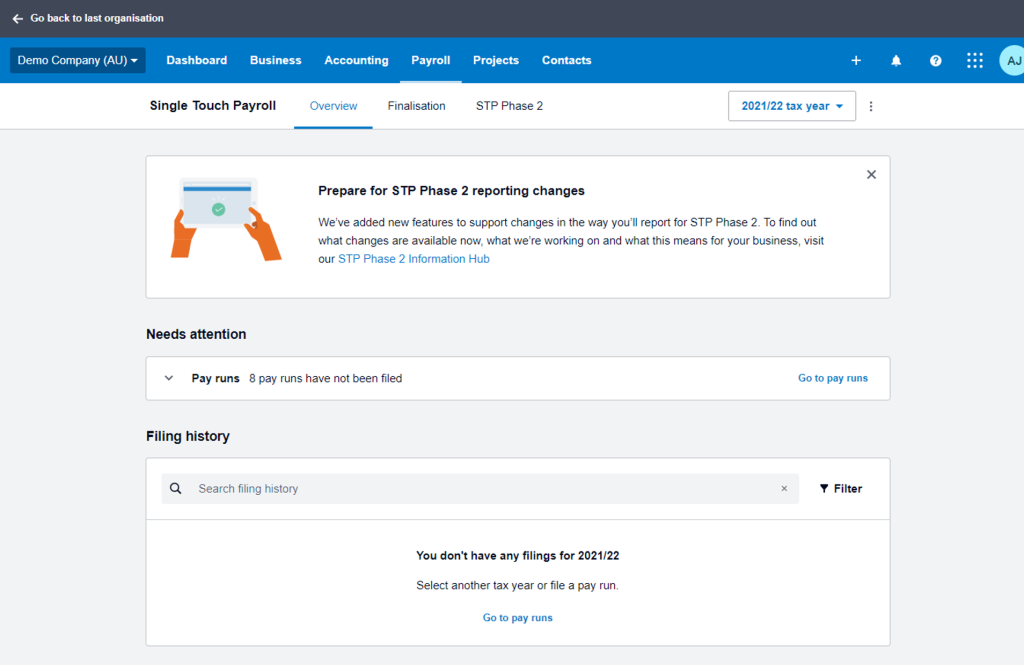 Stay up to date with Xero with EzyLearn
EzyLearn has already updated all payroll training courses to cover STP2.  You can learn payroll in Xero here, or across multiple popular accounting software in our Advanced Certificate bundle course.
Xero is one of the most popular cloud accounting software used by bookkeepers and small businesses, and you can learn everything you need to use Xero in our Xero Complete Training Course Package.
-- Did you like what you read? Want to receive these posts via email when they are published? Subscribe below.