Breaking News & Updates
Xero is one of the leading accounting software for small businesses with more than 700,000 Aussie customers – it's no wonder our Xero courses remain some of our most popular!
Xero didn't fare too badly last year, all things considering, increasing their total subscribers by 20% and their net profit by NZ$16.4 million.
But as we rolled into 2022 Xero's share prices took a hit, and with worries about higher inflation, what will this mean for Xero?
Xero's taken a hit
At the time of writing, Xero currently has a share price of $111.53. You can see from the graph below how much its dropped since the start of the calendar year. Even between January 1 and January 20, Xero lost 20% of its share price value.
Xero isn't alone in this, however, as ASX tech shares across the board have suffered, in part due to worries of inflation and rising yields.
Basically, investors are expecting interest rates to rise over this calendar year, and are selling bonds based on this expectation and demanding higher returns.
This impacts corporate bonds, like tech shares, and investors are less likely to pay high prices for risky stocks. The graph below shows how Xero's share price compares to the S&P/ASX All Technology index – which is the Aussie tech business benchmark:
You can see the dip following January 2022, but Xero definitely looks worse for it.
Is Xero really at risk?
Xero's been listed on the ASX since 2012, and has since grown their company significantly. In September of 2019, the market capitalisation of Xero exceeded NZ$10 billion, making it the third-most valuable publicly listed New Zealand company.
Like most companies, they suffered from the COVID-19 pandemic, and reported a loss of NZ$5.92 million for the six months to 30 September 2021.
Despite this, revenue was up, subscribers continued to grow, and the company continued to purchase integrations.
It's no secret, however, that Xero has some debt. In September of 2021, Xero had debt of NZ$883 million, but had NZ$1.01 billion in cash offsetting this, leading to net cash of NZ$125 million
Whilst Xero's short-term assets exceed its short-term liabilities, they do not cover its long-term liabilities.
Xero's earnings before interest and tax (EBIT) was also down 72% last year, which is a bit concerning. In their report, Simply Wall St noted that if this trend was to continue it would be difficult for Xero to pay its debts.
However, over the last three years Xero recorded a free cash flow of 83% of its EBIT, which indicates its able to build its cash balance and is in a strong position to pay down debt.
The issue is, of course, that with interest rates set to rise borrowing money becomes more expensive. Whilst Xero might be able to pay its short-term debt, if this debt continues to grow at a rate disproportionate to its EBIT, then that could mean trouble.
Despite its rocky start, some analysts are predicting a growth for Xero. It will be interesting to see how Xero recovers from this hit, and how it will cope with the forecasted rising interest rates.
Xero and its integrations
We've written lots about Xero's integrations and acquisitions, and for a good reason: there's so many of them!
In a recent video, Xero CFO Kirsty Godfrey-Billy attributed the growth in revenue to the "positive contributions" from their three recent acquisitions: Waddle, Planday, and Tickstar.
One of the reasons Xero is so popular is because it seems to have a solution for everything and everyone. Xero has acquired companies like inventory management software LOCATE in the US, Canadian tax compliance software TaxCycle, and receipt capture software Hubdoc.
As Xero continues to buy integrations, it expands its market and services, growing its subscriber numbers and revenue.
Xero compared to Intuit (QuickBooks) and Reckon
We can't include MYOB in this comparison because they are owned by a large US private equity firm (and have changed ownership by different private equity firms over the last few years).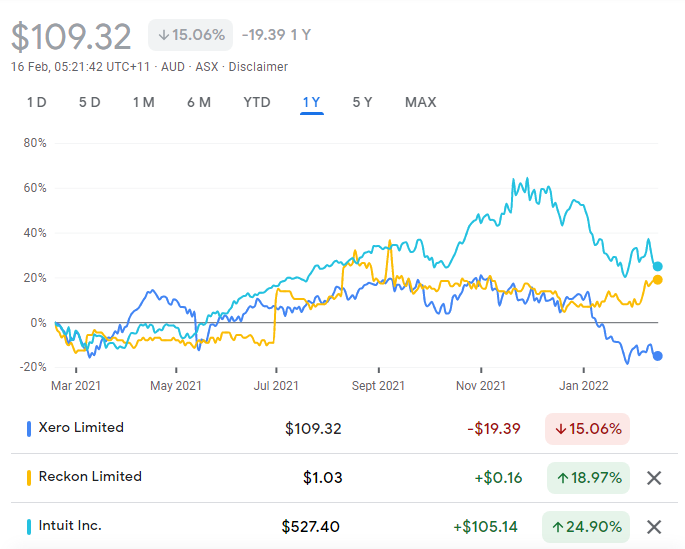 In the last 12 months the Xero share price has performed worst compared to Intuit (long time MYOB rival with their powerful QuickBooks Online software) and Reckon (best known for their Accounting Practice software).
Xero has made a lot of purchases recently and they appear to have made these purchases in areas where their main accounting program has been lacking in features. They also appear to be making these purchases to follow in the footsteps of their biggest US competitor, Intuit, who already owns TurboTax and TSheets.
Learn Xero with EzyLearn
Xero Complete Training Course Package is our most popular Xero training package because it is a discounted package that includes everything we have available to learn about Xero.
Recent additions to this Xero training package include:
Receipt Scanning and Capture Course (including Hubdoc, AutoEntry and Dext Prepare)
Xero My Payroll App (in the Xero Payroll Course to help employees access and manage their timesheets, payslips and more
Cloud Accounting Integrations (Introduction to the most popular Integrations that make Xero so useful and powerful)
-- Did you like what you read? Want to receive these posts via email when they are published? Subscribe below.