Breaking News & Updates
We were recently surveying our PayPal account and discovered that you can now invoice customers directly using PayPal. While it doesn't eradicate the need for a good piece of accounting software, this facility makes it very easy for people to get started in business — particularly businesses with very few expenses.
It's a Great Time to Start a Business!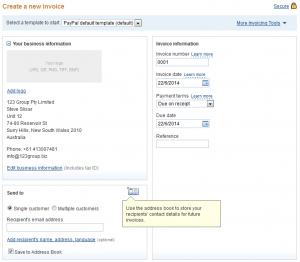 If you've been thinking about starting a business, then there has never been the more perfect time to do it. Really, we mean that! In fact, it's why we started developing our digital business course, because there are now so many online tools to help people get a small business off the ground — it's just a case of knowing what those tools are and how to use them.
EzyLearn Digital Business Course
This is where we come in. Our Digital Business Course is designed to take you through every step involved in starting an online business — from creating a website to understanding how to manage and operate a small business.
One great facility for any online business, whether you're selling products or services, is having a PayPal account, which allows you to accept payments from customers all over the world.
The Benefits of PayPal for Your Business
Using PayPal for your business transactions also enables you to expand your business networks right around the globe. You can tap into the global marketplace of remote workers and ensure your transactions are safe and secure every time.
With PayPal as your primary method for accepting payments from customers, you're able to invoice clients and offer them the option of paying by credit card for free. As a remote worker, this is an easy way to send invoices and reconcile payments all in the one place.
But say you're not just an online business. Say you'd like to be able to take credit card payments in person too. Well, PayPal also offers a service, called PayPal Here, which allows you to turn any smartphone into a credit card processing terminal, so it doesn't matter where you are — you can always get paid.
***
There really has never been a better time to start a business than now, so if you would like more information on our Digital Business Course or our Small Business Management Course which equips you with the knowledge you need to run your own or someone else's small business (plus you conclude the course with a comprehensive business plan), then contact our team today — we'll help you get started!
-- Did you like what you read? Want to receive these posts via email when they are published? Subscribe below.