There's always Zoho Books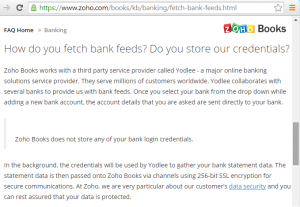 You may have a different opinion when it comes to paying your suppliers but I believe you should pay quickly. I'm talking mainly about service providers rather that product suppliers, but I think in small business it doesn't matter.
Everyone loves to be paid on time and if you can get paid earlier, even better. It once took me 16 minutes to pay a supplier – OK, I was making other payments at the time, but still, it looked impressive.
I mention it today because one of my team told me that I was categorised by their accounting software as "high risk" and I wasn't too happy.
Continue reading

Zoho Books, You don't want to be a high risk do you?