Breaking News & Updates
Online MYOB Courses are flexible but…
ONLINE TRAINING IS one of the most convenient ways for busy people to study. While some people take to it naturally, for others the flexibility and freedom it affords itself is a learning curve.
The key to successful online training, however, is family support and we've noticed that many students for our Xero & MYOB Courses are parents who are stretched for time.
Each student comes to online training with different circumstances. They might be
studying while working full time, or

studying while raising small children, or

studying while working part-time and raising children.
But whatever their circumstances, they need to have friends and family at home who can support their studies.
Support to achieve your study goals
If you're home all day with the kids, you're probably only able to snatch a few hours to study here and there, when the kids are asleep and the chores are all done. A partner who can help out — by cooking dinner, say — on one of your study nights can make all the difference to you achieving your study goals because it enables you to grab an extra hour, earlier in the evening, to study.
But balancing home (or work) with study requires a plan. Online training is flexible, but it's only flexible in that it can adapt to your schedule more easily than face-to-face learning.
For example, rather than having to be at a tutorial each Wednesday at 5pm, you can read the tutorial notes anytime you like, so long as you stay on top of them in order to complete your assessment tasks.
Set a plan for you and your partner
To ensure you don't get behind or overwhelmed, it's a good idea to create a study plan before you start your studies. A study plan sets out which days (or nights) will be study days, how many hours you'll need to complete, and what tasks you'll do. (You'll get a free study planner guide as well as a Lifetime student account.)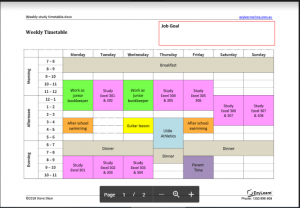 A study plan won't just help you to get organised, but it'll help your family too. They'll know not to bother you on Tuesdays after dinner, because you'll be doing your studies. With everyone knowing what they have to do that day — your partner might take care of dinner and putting the kids to bed, for example — you won't be as stressed, and nor will they.
Everyone learns differently
Don't forget that everyone learns differently. Some people just can't study at nighttime, so instead they might have to block out a day of the weekend; other people are no good at learning from predominantly written materials, while others are.
There's no point trying to make yourself work in a way that isn't conducive to learning at your best. But if you plan your study in advance, with the help of your family, online training can be an enjoyable and flexible way to learn new skills.
Accounting Tutors are now available to speak with if you need extra help and attention from someone with industry experience.
-- Did you like what you read? Want to receive these posts via email when they are published? Subscribe below.