Breaking News & Updates
EzyLearn is a lowest cost procedure of training courses and for March 2020 we're offering a lowest course price guarantee on the MYOB AccountRight and MYOB Essentials training courses!
Starting way back in 1996 when Sue and Trish started their Lane Cove based training centre to help mums up-skill to return to the workforce and I had my training centre in Dee Why doing the same, we all created our own training course materials. As a result we can be nimble in updating and making improvements and adding new content.
We regularly modify our training course content when the big software companies change how their software works (which is happening a LOT these days since they're in the cloud) and we create new content when government regulations like GST, STP Payroll, superannuation guarantees etc come into effect. 
Training Companies Make Lots of Promises
I made a choice for EzyLearn not to become an RTO and deliver Nationally Accredited Bookkeeping courses so that we could instead maintain our focus on creating great short courses (TAFE now call these types of courses Pre-Accredited) that helps job seekers, employees and business owners and managers learn how to use software to improve their lives and businesses. 
Recently I've seen some amazing claims from some relatively new training organisations, who've been in Australia for only a few years, including:
Global Education Partner (for Xero and MYOB)
CPD Approved courses (CPD courses are not as rigid as that!)
CPA recognised employer partners (but not visible on CPA website?)
Fake Accreditation and Certificates
We now work with a Registered Training Organisation to provide the Cert IV in Bookkeeping to EzyLearn students for a significant discount but I've seen some very aggressive marketing from some organisations that offer Diplomas and Statements of Attainment even though these are official qualifications and the companies offering them are NOT RTO's. 
I'm publishing this post because this marketing is causing a LOT of confusion from prospective students who have become nervous and unsure about what is real and what is fake. 
The low down on Accredited MYOB bookkeeping courses
If you want to know how the government, industry organisations and software companies offer "accredited" training visit the page we created specifically to help students and choose the path that's best for you.
If you want affordable MYOB short online courses which have been improved over 20 years and supported directly by us then see what we offer and take advantage of our Lowest MYOB Training Course Price Guarantee.
What is Industry Accredited!?
I must admit that since we cancelled our annual marketing expense with the Institute of Certificate Bookkeeper and subsequently stopped using their logo, we've started using the term Industry Accredited for our courses.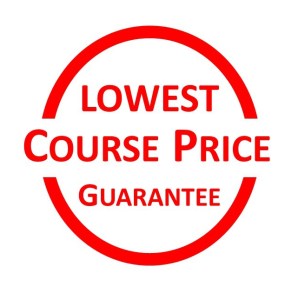 We, like many other training companies of all sizes paid an annual fee to ICB to claim that we were an accredited training provider of their organisation. Sadly, any legitimate company setup through ASIC can pay this annual fee and no one from ICB actually goes through and reviews the courses and their content! That's why we stopped.
It might seem like a sad reality that we've come to calling our courses Industry Accredited but in a way it's true.
Although it's not an official accreditation we've had hundreds of bookkeepers and staff at accounting firms complete our online accounting courses and receive fantastic reviews from them.
You can see some of our testimonials are from BAS agents who've completed our courses to upskill quickly. 
Lowest Course Price Guarantee
If you want to compare apples with apples and are looking at doing an online MYOB AccountRight or MYOB Essentials training course let us do the comparison work for you!
-- Did you like what you read? Want to receive these posts via email when they are published? Subscribe below.