Breaking News & Updates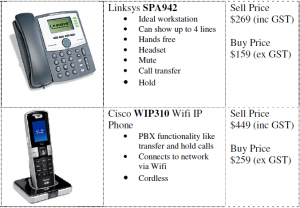 We were reviewing the course outline for the MYOB Day-to-Day Transactions course because it covers most of the topics that someone would need if they are performing daily bookkeeping data entry tasks for a small to medium business.
The course provides the foundation skills that most of the other courses are built on. Once you have the day-to-day data entry skills you will be able to more confidently perform a bank reconciliation, generate reports and prepare BAS returns as well as enter the data and prepare reports for payroll.
The MYOB Day-to-Day course uses a very common case study of a company that provides products and services. We use an IT consultant that sells small business VoIP telephone systems and supports their customers with the initial setup as well as ongoing support.
Course features
Since January 2011 our full suit of 5 MYOB training courses comes with lifetime access so you can revisit the training videos, workbooks with step-by-step exercises and knowledge reviews as often as you want for the rest of your working life. Many students use the course as a resource for when they are using
Our MYOB training courses also come with EzyLearn ANSWERS, a service that we provide to create new course content based on  questions from our students. It's a way that we increase what is covered in our courses while providing students with an level of customisation and support.
Another great aspect of this course is that we go into the Inventory module of MYOB Accounting software to see how a company can sell products as well as services using the Inventory module of MYOB AccountRight Plus.
Our MYOB training courses are created using consultation with business owners and certified bookkeepers and registered BAS agents who perform bookkeeping tasks for their own customers.
Free MYOB Training Course
We want to give free MYOB training away so you get a chance to learn more about us and see if we are the company you turn to for your MYOB training courses. Follow the link below and you will automatically receive our free MYOB training resources.
The free MYOB Training Course material is now available at our new MYOB Short Courses catalogue site. Access the FREE MYOB Training Now
Tips and Tricks
We announce new course content, free tips and tricks, free training videos and much more via this blog so feel free to subscribe and be kept up-to-date and well informed about MYOB, bookkeeping, Office Administration and Website Design. Enter your email address below:
-- Did you like what you read? Want to receive these posts via email when they are published? Subscribe below.